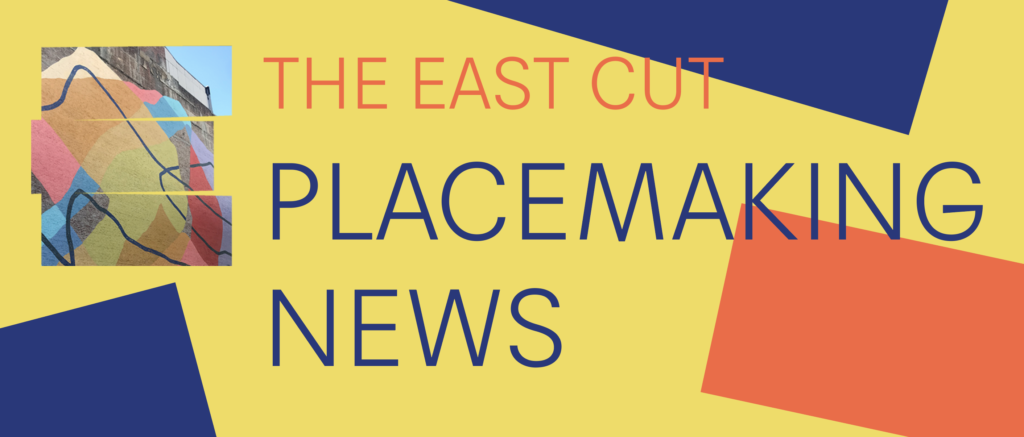 For 2021, The East Cut CBD is trying something a little different in our newsletters. Each month, subscribers can expect a theme in the newsletter highlighted in the "Placemaking News" section, with several articles featured relating to that topic and a connection to how the content ties into projects or programs completed, forthcoming, or, in the idea-phase within our district.
You can find a running list of articles and content related to our 2021 themes on this page, which range from Activating Vacant Retail Spaces to Design Trends in the "Post COVID" City. This page will be updated monthly as more placemaking news articles are aded-in, so check back often!
Pedestrian and Bicycle Safety
Slow Streets Works but Be Sure to Engage the Local Community First!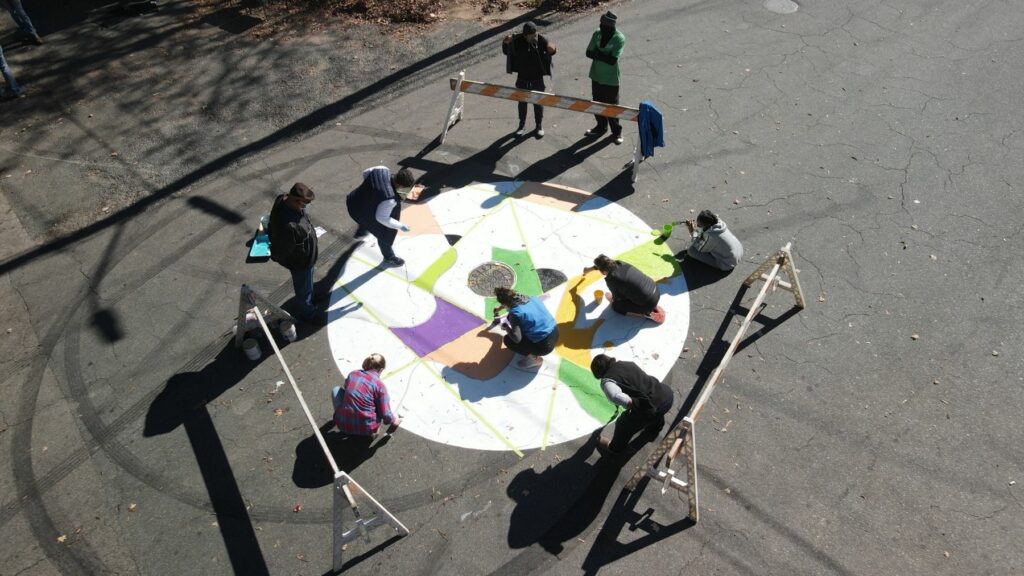 With the sudden arrival of COVID-19, city life was altered and a call for change emerged. One of the main responses to supporting socially distance physical activity is the concept of 'Slow Streets,' in which cities restricted vehicle access to select neighborhood streets. To read the full article on how the Slow Streets movement was realized in Oakland, CA, click here.
In the East Cut, one of the densest neighborhoods in San Francisco, SFMTA has made no attempts to create a Slow Street. The need for safe public spaces where residents, particularly children, can move and play, led to the CBD's lobbying to activate the Temporary Transbay Terminal. The RFP for the activation was due February 3rd, and the CBD is hopeful that neighborhood-serving activities will be happening on the site in the coming months.
For a link to the full article click here.
Vision Zero in San Francisco and Beyond

Founded in Sweden in 1995, Vision Zero is a road safety system that seeks to achieve zero road fatalities through the implementation of its principles and guidelines. Most major cities in the United States have adopted a Vision Zero policy and San Francisco adopted its own policy in 2014, in an effort to eliminate fatalities and injuries that occur on San Francisco streets.
The evolving East Cut neighborhood is developing as truly multi-modal, with pedestrian, biking, and, of course, transit improvements being implemented in the neighborhood. Salesforce Transit Center has largely taken regional bus lines off the districts streets. Folsom Street improvements are nearing completion, with a protected bike lane in both directions and new turn restrictions to protect pedestrians and bicyclists at crossings. Most recently, "quick build" improvements have come to both Howard and Beale streets.
All these improvements leave untouched the biggest challenge – that the neighborhood is still a massive thoroughfare to and from the Bay Bridge. Too often cars come off the bridge onto Fremont at high speeds, zipping through intersections busy with pedestrians. On First Street, during rush hour, the street is gridlock with cars blocking the box and making illegal turns. When not backed up with rush hour traffic, the street can feel like a raceway onto the bridge. Creating a truly safe residential neighborhood will require solving this challenge.
Vision Zero High Injury Network Map, link here
Vision Zero SF Annual Fatality Report, link here
Share your thoughts on top priorities for pedestrian and bicycle safety in the East Cut by reaching out to us at: info@theeastcut.org.
For a link to the full article click here.
First Raised Intersection Coming to SF
Raised intersections act like speed bumps, slowing down traffic and elevating the road to be flush with the sidewalk. San Francisco's first raised intersection is planned for Page and Buchanan, and many pedestrian safety activists hope this means more will be installed in the future.
The East Cut contains several high injury corridor streets and unfortunately, New Years brought with it two deaths at the Second and Mission Street intersection, just outside of our district. You can find a summary of the tragic incidents here. Given the City's decision to entertain a raised intersection at Page and Buchanan, the CBD hopes rollout in other high-density, high-traffic areas will be forthcoming, as they are desperately needed.
Several improvements in The East Cut in recent years, such as raised crosswalks on Second Street and new signage on Folsom Street designating no right turns on red, have indeed helped to protect pedestrians. However, as the district grows in size and as more cars come back on the road, the question the CBD asks is how we might build on these isolated improvements to truly slow traffic across the district, making the community safe for seniors, children and everyone to live, work, and play. Indeed, larger, systemic interventions are necessary.
For a link to the full article click here.
The U.S. Was Not Ready for The COVID Bike Boom. With Decades to Prepare, How Did This Happen?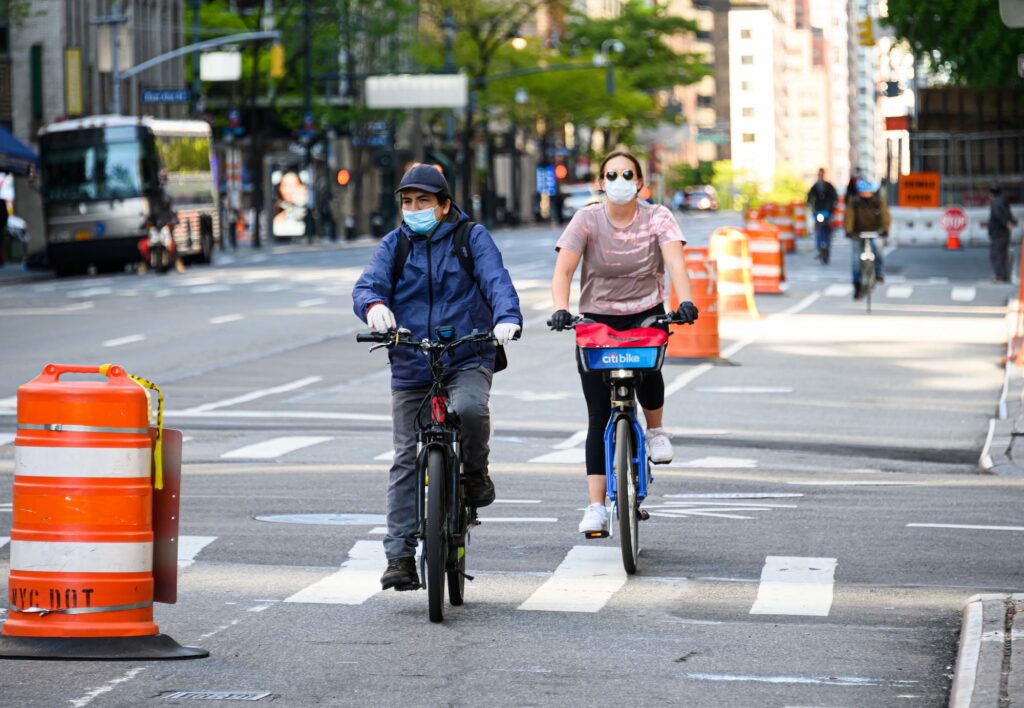 If the first major bicycling boom took place in 1890, and bike use has grown steadily over the last few decades, why then are most major U.S. cities so far behind in creating sustainable biking infrastructure? Unfortunately, in the United States, urban planning and transportation authorities have long prioritized cars when building out urban transit networks.
The East Cut has some of the most sophisticated bike infrastructure in the City. Folsom Street has our newest cycle track, and Beale Street is our most forward thinking in that is has a two-way cycle track (there are only one or two others in the City). What's more, planning stages for a two-way cycle track on the Embarcadero, just steps from our district, are in the concept phase with SFMTA.
Another project that emphasizes cyclist protection in the East Cut is the Howard Street Quick Build, which was completed last December. A full reconstruction is planned for Howard Street as part of the Howard Streetscape Improvements Project, which would add another two-way cycle track to the neighborhood. These various street improvement projects will soon unite the district's bike network to that of the rest of the City, but what about an overall reduction in vehicular traffic to promote both bike and pedestrian safety and prioritize the environment? This will require cultural policy shifts that may be on the horizon with a new administration in Washington D.C. that seeks to promote energy-efficient modes of transportation.
For a link to the full article click here.
Moving Forward with Market Street Improvements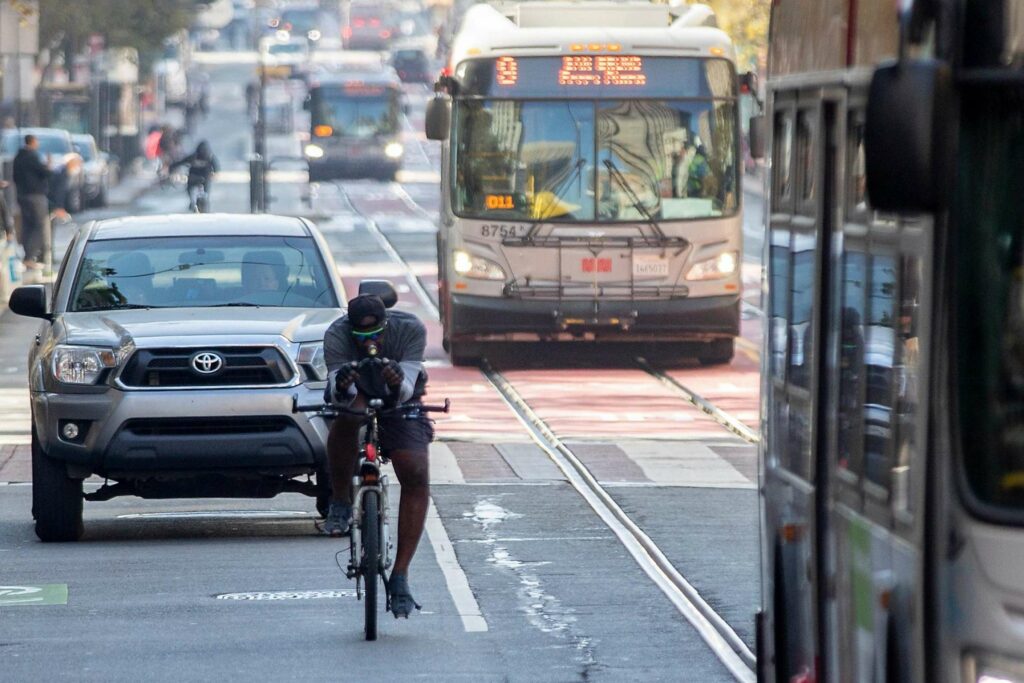 Market Street, one of San Francisco's busiest and most well-known streets, has been approved for redesign––but not everyone is thrilled with the new plan. The original street redesign was scaled back due to the sudden toll that the pandemic-driven recession took on the project's budget; the new plan will result in a $300 million savings for the total project. This reduction in costs, however, came with some backlash against the rather controversial redesign.
To learn more about the redesign and recent project changes, click here.
Vibrant Public Spaces
15-Minute City Model Fan? Try The 1-Minute!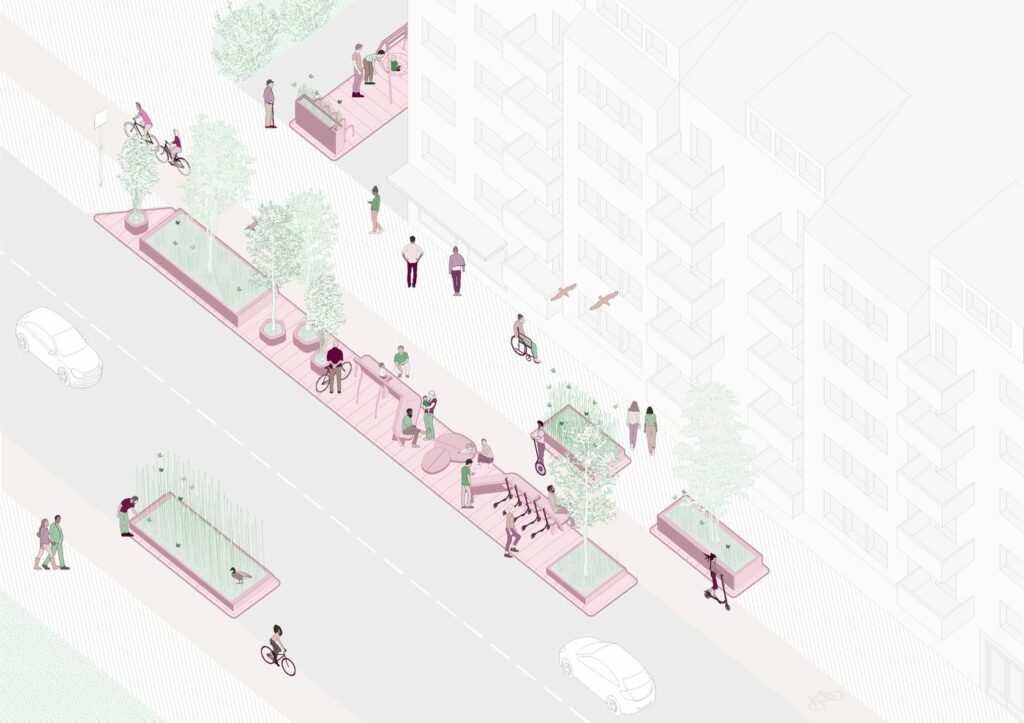 The 1-minute city is a recent revolutionary trend in Urban Planning, similar to the 15-minute city, but with a focus on serving a specific street's needs, such as cafe seating, exercise, play, or bike storage. Effectively, the planning model seeks to challenge the idea of streets as places to move and store cars but rather critical connecting spaces for any given community leveraging street furniture, in particular, to meet these needs.
Just imagine if San Francisco had this modular street furniture in development before the pandemic; suddenly, Slow Streets could be leveraged to include everything from exercise stations to play sites! Read more about this revolutionary new urban planning concept via the link below.
For a link to the full article click here.
Cities Across the U.S. Leveraged Public Spaces in 2020 to Promote Civic Life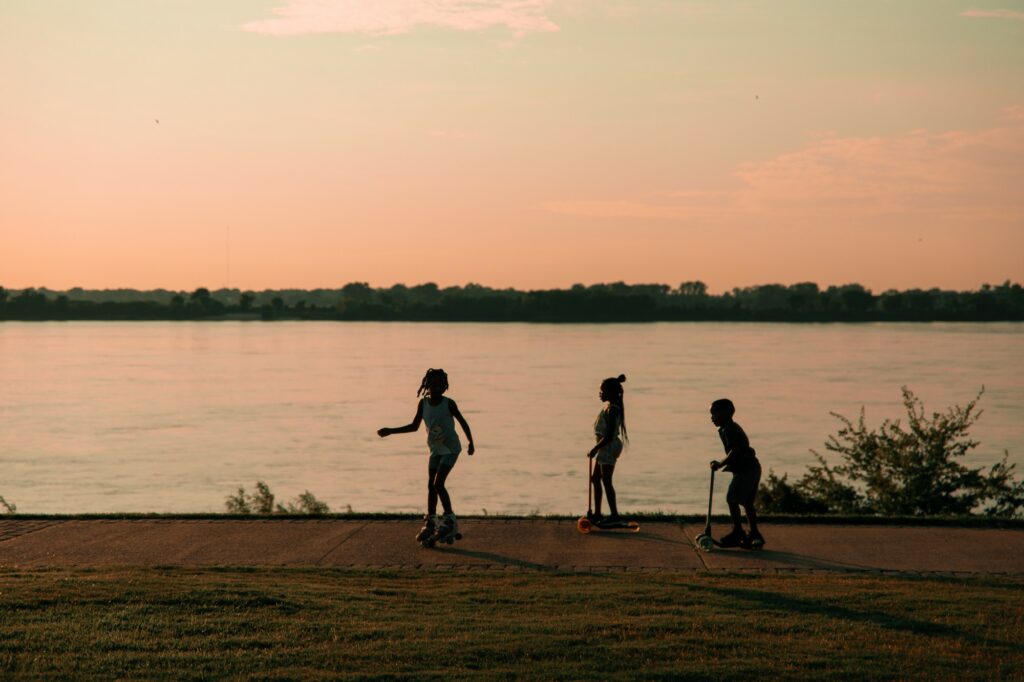 Many cities across the United States have used the pandemic to activate public spaces in order to best serve local communities. In Memphis, the City closed the downtown thoroughfare, which increased park attendance, and the riverfront transformed into an outdoor active space for training lessons, runners, and skaters. Overall, citizens reported feeling safer, more active, and more connected to their City's park.
Learning from project implementation successes and failures is a key goal of the CBD in 2021 so that it can advocate for efficient, value-adding public space activations this year and for the foreseeable future. The CBD's restaurants have been hit hard by the pandemic, so an innovative and practical use of public space by the Georgia city of Macon, highlighted in this article, resonated with us. Picnic tables were brought into median parks to encourage the use of take-out offerings by nearby restaurants. This initiative, combined with an open-container policy, encouraged safe socialization while helping to sustain local businesses. The CBD has experienced success with lunchtime and weekend food-centric activations in the past and feels leveraging the Temporary Transbay Terminal for this sort of effort is an excellent idea to increase socially distanced socialization and economic vitality central to our district.
For a link to the full article click here.
Avoiding Failure in Activating Public Spaces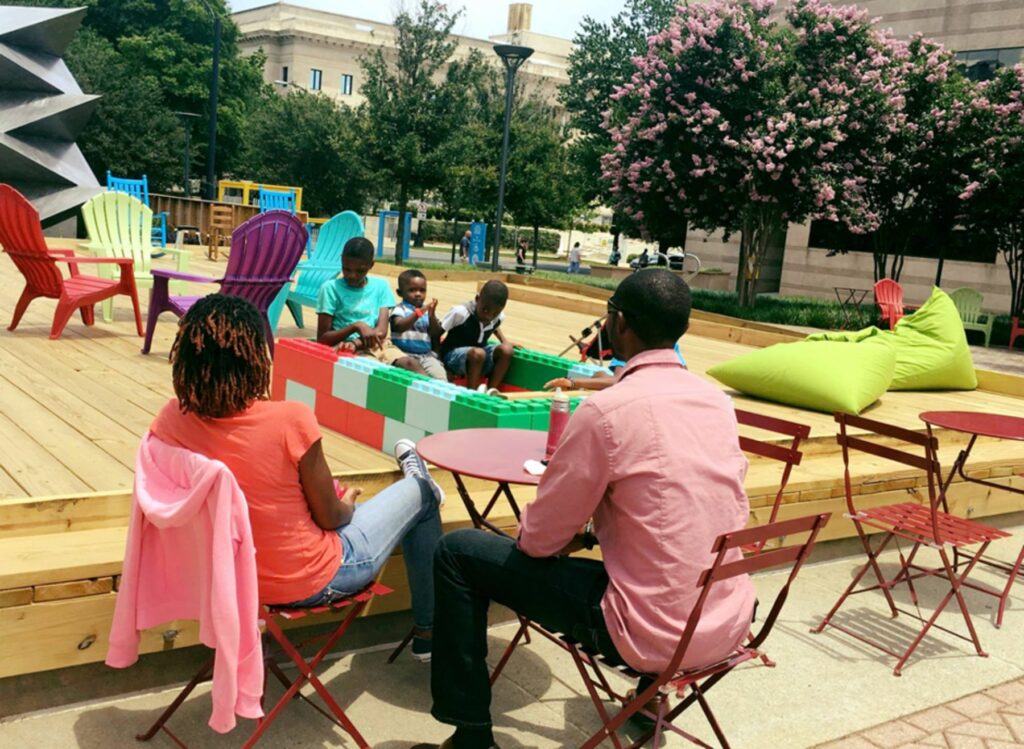 In this article from 2018, CityLab examines the link between public spaces and public space activation, with the latter serving not as a complimentary feature but an essential one for a public space to succeed.
One insight that resonates with the CBD is the notion that activating a space can help it be "seen." A previously passed-by plaza, no matter how thoughtfully designed, can go unnoticed by residents for years until programming encourages people to interact with the space. Additionally, since activations are not permanent like fixtures are, they can evolve to meet the community's needs seasonally, or over years!
Mechanic's Plaza (at Market and Battery) is an example here in our own city of a space where a simple swap in furniture and the addition of an interactive component dramatically increased use. The plaza previously had fixed benches that were installed in parallel rows that did not attract visitors. As a result, Public Works removed the benches and added a steward, moveable tables and chairs, and a big checkerboard. These interventions transformed the space, which pre-COVID was bustling during business hours each weekday!
There is a clear connection between public space, design components, and stewarded activations when optimizing for public use. We hope to employ these learnings towards the temporary activation of the Temporary Transbay Terminal, and in the future at Under Ramp Park!
For a link to the full article click here.
Successes in Temporary Activations Support Economic Vitality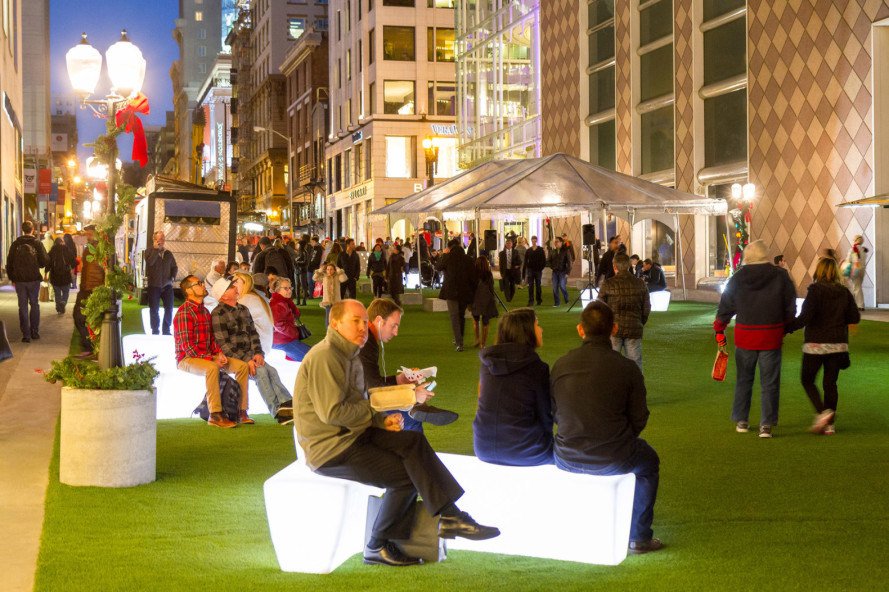 Union Square's Winter Walk was awarded the International Downtown Association's Downtown Achievement Award of Excellence in 2019 for its level of innovation, excellent urban place management delivering real value to the city, and an exemplary response to a community challenge. Winter Walk SF was a pop-up holiday pedestrian plaza combining decor, mobile food and beverages, a communal beer garden, family-friendly activities, art, live music, and interactive experience over five festive weeks in the heart of Union Square. The project truly improved the image and vitality of downtown San Francisco.

The East Cut feels that it has the potential, between large public open spaces and interesting alleyways, to ideate and implement similar seasonal activations, building on last year's Emperor Norton's Bazaar. Furthermore, the CBD looks for opportunities to reclaim the Public Right of Way through temporary street closures, showcasing to residents and City Officials alike how these spaces, once exclusively dedicated to vehicular traffic, may better serve the community when repurposed.
For a link to the full article click here.
Successes in Temporary Activations Support Economic Vitality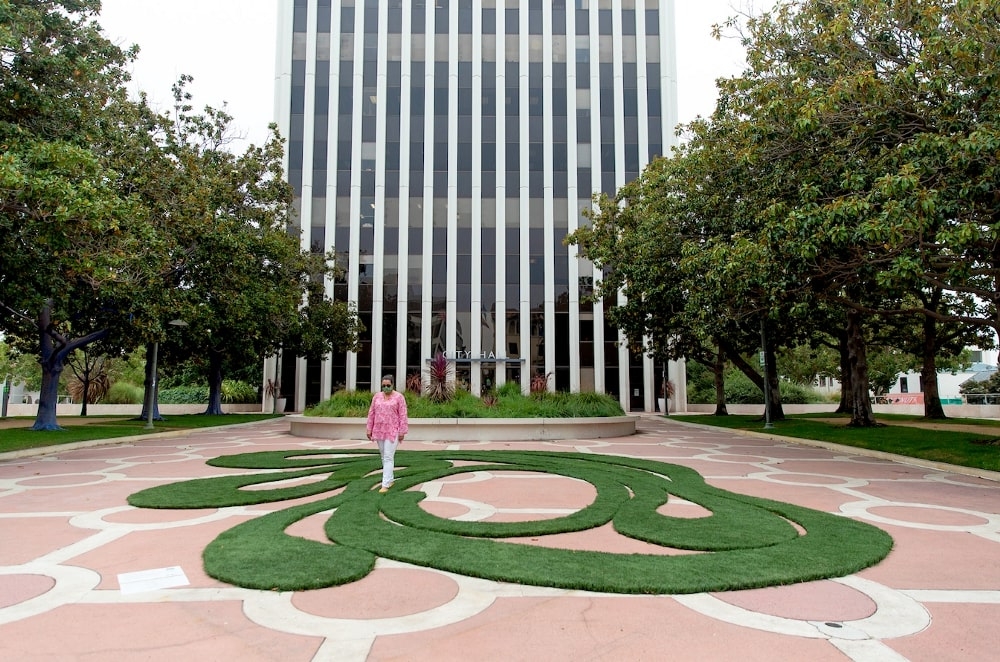 Palo Alto is one example of utilizing art to transform public spaces and help a city define itself and what it aspires to be. With this mission in mind, new sculptures and murals have sprouted up all over Palo Alto, and the city began a rotating series of temporary installations at City Hall's King Plaza. Some of the Plaza's previous public art installations included bright blue painted trees and a Bucolic Labyrinth, a winding design of artificial grass by Paz de la Calzada. Elise DeMarzo, the city's current public art program director, hopes to stimulate an ongoing public conversation through the rotating public art.
Similarly, San Francisco has a "1%-for-art program" that requires large downtown projects to provide public art that equals at least 1% of the total construction cost. This initiative works to beautify and enrich public spaces throughout San Francisco, including many spaces within The East Cut. For example, Ugo Rondinone's sculpture trio entitled, "Moonrise" located at 555 Mission draws the attention of passers-by to explore and contemplate the work. Viewers often take photos or selfies, sit near the sculptures, and converse on their meaning with companions.

To get a better idea of the public art throughout our district, stay tuned for our upcoming East Cut Public Art Tour, taking you around to some of the best projects in our neighborhood!
For a link to the full article click here.
From Boarded Up Storefronts to Public Art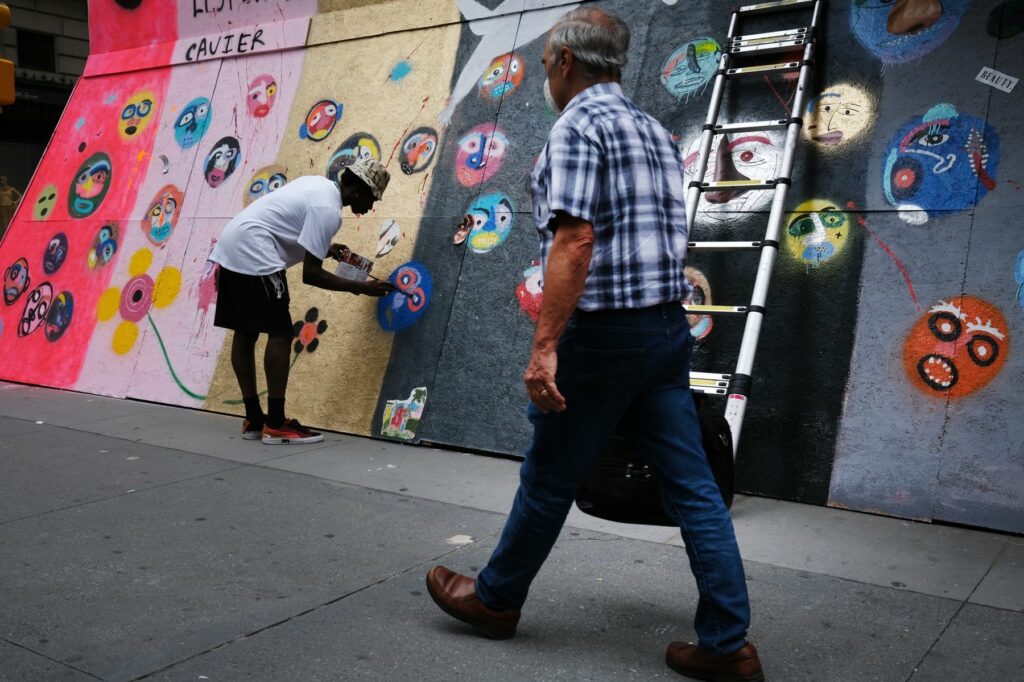 Some things have become synonymous with the pandemic: masks, lines at the bank, take-out, and in downtown districts, plywood covering many storefronts shut down since spring 2020. As we experienced here in San Francisco, many cities and neighborhoods engaged with local artists to decorate these wood walls with murals or branding for the building they protected. But what will happen when the wood comes down?
In this article by Linda Poon, creative repurposing of plywood boards by nonprofits and community groups sparks a conversation around art, community, and healing. Poon examines efforts by various nonprofits to get wood into the hands of local government agencies and groups able to put them to good use. From voter registration booths to animal enclosures to street furniture, there is much good that can come out of repurposing these materials.
In our district, we have a number of bars in particular that are boarded. With the possibility of activating the Temporary Transbay Terminal, what might a cache of wood boards do for our community? A community mural wherein residents can add their own art and messages over a weekend, perhaps? Picnic tables for outdoor socializing? There are many possibilities!
For a link to the full article click here.
Activating Vacant Retail Spaces
Vacant Retail, An Opportunity for Any Downtown!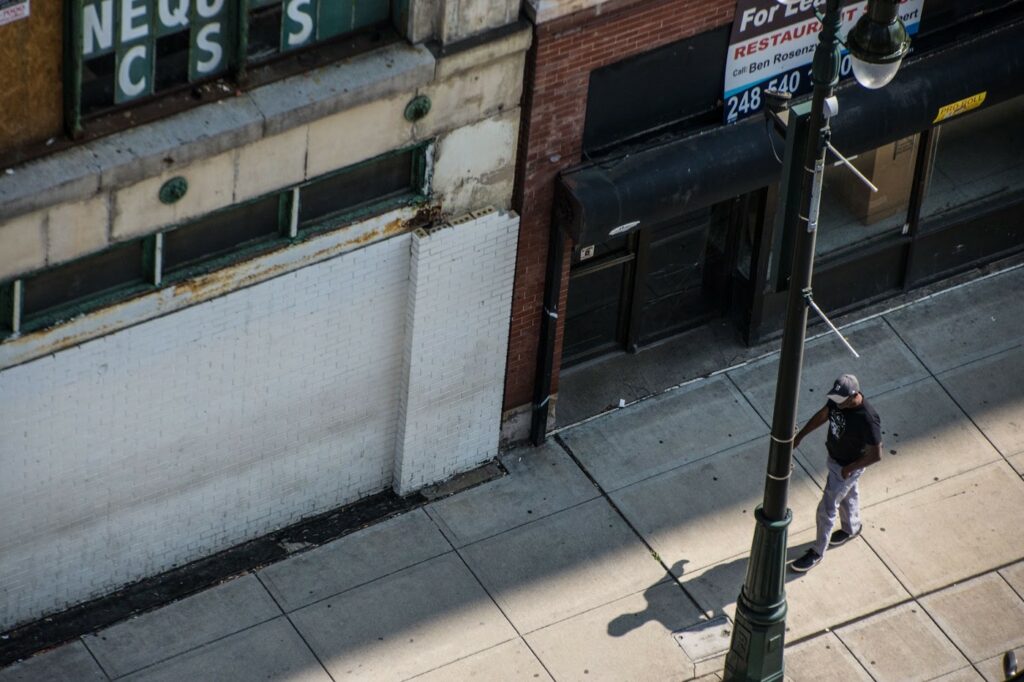 The Link2Lift team notes that city centers used to be constantly buzzing and bustling with movement––but that started to change with the emergence of e-commerce. Nowadays, people have less incentive to drive downtown and spend time and energy shopping at multiple locations. Unfortunately, this has created many vacancies in downtown spaces, slowly taking the life out of city centers. Urban planners, however, have been coming up with creative temporary uses as a way to draw people in and activate these spaces, reviving cities and communities, socially and economically.
With that in mind, since early 2017, The East Cut CBD has been turning vacant retail space into places for the community to gather through pop-up art shows and events, partnering with local artists and developers in the neighborhood. These events have proven successful in enlivening empty commercial space and showcasing the potential for storefronts in the district. What's more, they promote an increase in foot traffic, which acts as a natural buffer against crimes of opportunity; something which has been an increasing issue in San Francisco since March 2020.
For a link to the full article click here.
Activation of Ground Floor Retail: Improved Neighborhood Safety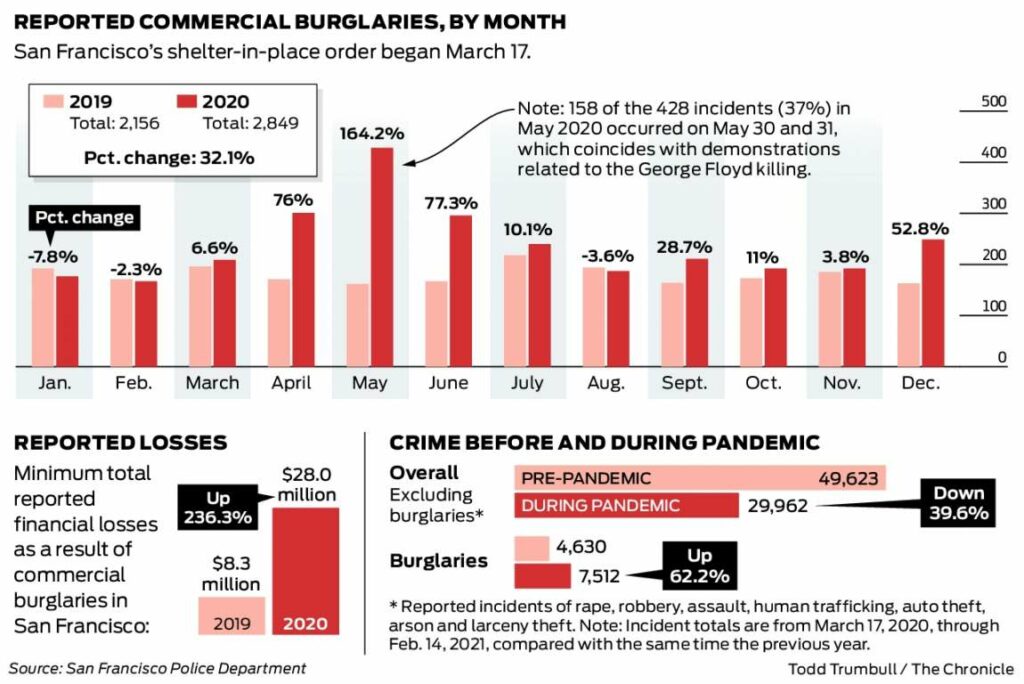 Store break-ins are on the rise in San Francisco with some district merchants reporting tens of thousands of dollars in damages. In this article by the San Francisco Chronicle, security challenges across the City are examined with particular attention paid to the investment by small businesses to mitigate damages and the financial burden the spike in these break-ins has placed on them.
In our own district, we have seen dormant small businesses affected by this increase in crime. Natoma Cabana alone has experienced two break-ins in less than a month. Of particular note are the timings of break-ins; rather than sticking to the cover of night, burglars are become more brazen, breaking into cars and businesses during the day (as was the case for Natoma Cabana).
This reveals that desperation by certain groups combined with the reduction in daytime foot traffic makes certain districts particularly vulnerable. The CBD's security ambassadors patrol 24/7, however, they cannot be everywhere at once. A vibrant street life is one of the most impactful ways to promote street safety. Busy streets encourage accountability, and a bustling neighborhood and its residents and daily visitors act as a natural buffer to crime. The CBD views fostering street vibrancy as essential to supporting the district's recovery, and as a result, is paying particular attention to temporary activations of public and vacant retail spaces.
For a link to the full article click here.
From Vacant Space to Pop-Up Social Infrastructure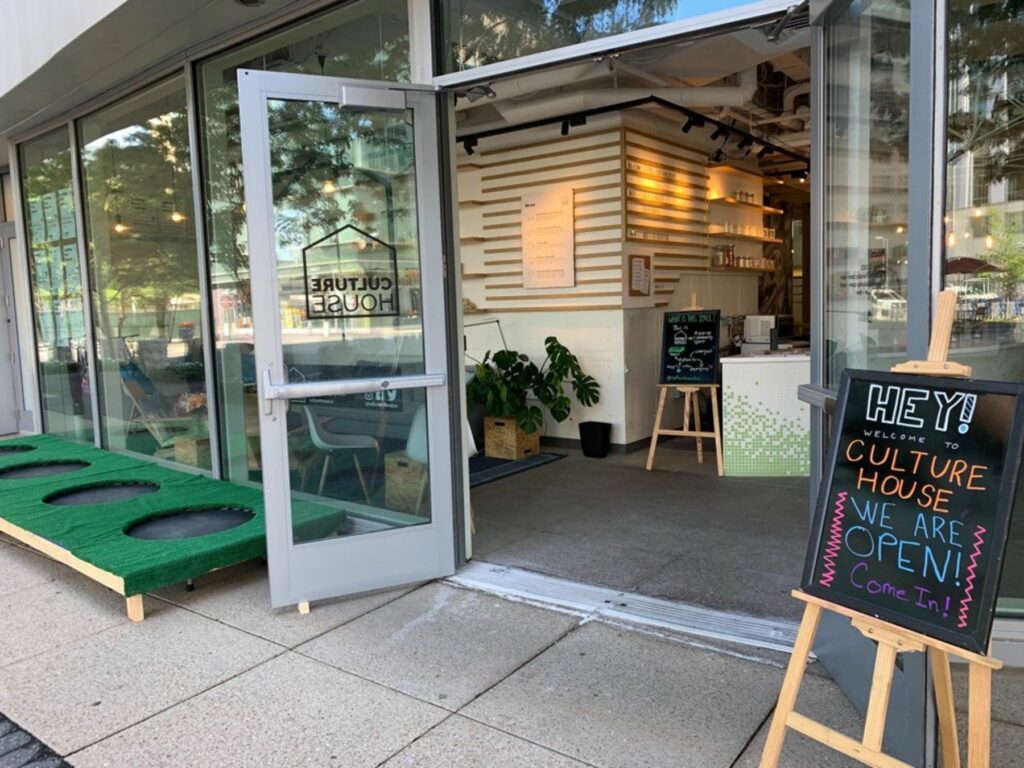 The Boston nonprofit CultureHouse is physically using vacant storefronts to create pop-up public spaces, hosting non-commercial events such as game nights, ping-pong tournaments, movie screenings, and more. By partnering with local resources and bringing these vacancies to life, businesses are supported, and people are given a reason to stay in an area.
With similar intent, the East Cut CBD is hosting several pop-up events with local businesses that foster art, culture, and community, and activate underutilized retail spaces in the neighborhood. Our activation with Problem Library (opening this week) hosted by the Mira is an example of a rent-subsidized space to offer community members access to art activations in a previously vacant retail space.
The Temporary Transbay Terminal activation is our best, upcoming example of an activation that combines social infrastructure like sports courts and picnic tables with the representation of local merchants via food trucks and a beer garden. The addition of a flex space further provides social engagement via potential movie screenings and other event-activations. What's more, if the CBD is able to bring in an affordable farmer's market, it will be able to support local growers and also the need for affordable, fresh produce.
Finally, one could also argue that the development of the area in and around Folsom Street, which subsequently prompted the rebuilding of the streetscape, supports all of these activations. These improvements promote civic engagement by providing a more useable space for pedestrians and merchants via wider sidewalks, along with an overall upgraded visual experience that increases foot traffic.
Overall, it is clear that organizations like a CBD help to take a holistic look at the needs of a given community and can serve as a linchpin to connect the needs of residents and visitors with projects being promoted, proposed, and considered by city agencies and developers.
For a link to the full article click here.