UPDATE 7 – 9/9/21
It's finally here! The Crossing at East Cut*, a highly anticipated new community destination delivering food and beverage, entertainment, and recreation offerings, will officially open Friday, September 10 at the former Temporary Transbay Transit Terminal.
The nearly 3.5-acre block between Howard, Main, Folsom, and Beale Street is being transformed so the community can access a family-friendly beer garden, food trucks, soccer fields, and more in a safe, welcoming, and well-designed space outdoors. An outdoor cinema, food & retail kiosks, a community marketplace, dog space, and kids play areas will be added soon.
Don't miss the opening weekend!
Where: 200 Folsom Street, San Francisco; Entrance at Beale Street between Howard and Folsom
What: Family Friendly Beer Garden presented by Monarch Beverage Catering.
Food Trucks (rotating and will include) Hongry Kong, Bonito Poke, Wo Kitchen, Respectable Bird, RuRu, Mo Bowl, Mashallah Indian
Street Soccer USA Park with two pitches for open play, and league and youth programs.
Pickleball
When: Friday, September 10 – 3-9pm
Saturday, September 11 – 11am-9pm
Sunday, September 12 – 11am-8pm
*The Crossing at East Cut is an interim activation developed in response to and in coordination with Mayor London Breed's Downtown Recovery Plan. The effort is led by East Cut Landing Partners, a partnership between The East Cut Community Benefit District, Nestory Park, Real Active and Street Soccer USA. Visit www.eastcutcrossing.com for regular hours of operation following the opening, and email info@eastcutcrossing.com for more information.
_________________________________________________________________________
UPDATE 6 – 8.12.21
The East Cut CBD is continuing to work earnestly to get The Crossing at East Cut off the ground! Before our crews move in to begin building out the site activations, the Permit to Enter (PTE) will need to be issued by OCII. Securing the necessary insurance contributed to a partial delay, and the team is, unfortunately, unable to complete pre-work on-site prior to PTE execution. We have a landscape contractor on board to perform deep cleaning and plant maintenance as soon as access is granted. We are currently on track to have access around mid-August, with a projected opening in the first half of September. The Crossing has hired a Director of Operations for the activation, and local restaurants and retail partners are executing letters of intent.
Be sure to visit our website via the hyperlink above to sign up for our mailing list!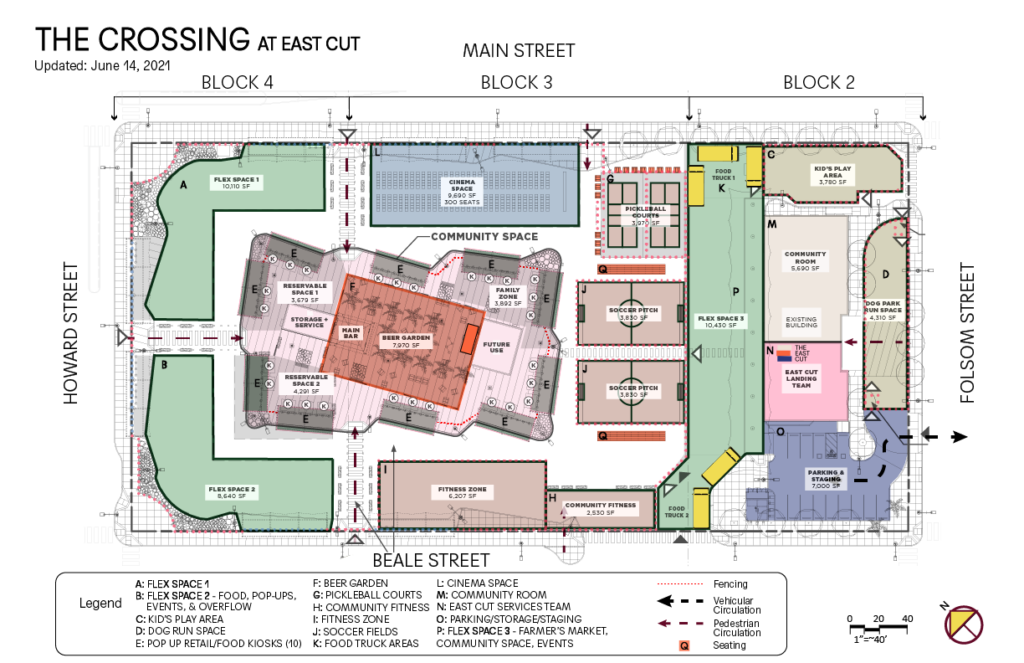 _________________________________________________________________________
UPDATE 5 – 7.8.21
The Crossing at East Cut is continuing to gain steam with plans for the opening weekend, currently slated for mid-August, taking shape! The East Cut Landing Partners (ECLP) team is continuing coordination with OCII to ensure all permits and requirements are met for a safe and successful opening. The team has been working closely with Lightbox Café owner, Hugo Santana, to develop retail kiosk concepts for the central area around the beer garden, and we're currently reaching out to local restaurants that might want to lease one of these kiosks.
Be sure to visit our website via the hyperlink above to sign up for our mailing list!
_________________________________________________________________________
UPDATE 4 – 6.11.21
As you might have seen in the news last week, the East Cut Landing Partners (ECLP) received approval from the OCII Commission on June 2nd to move forward with activating the Temporary Transbay Terminal! The team is now in the process of developing the opening weekend activations, which are planned to begin in mid-July.
The updated plan (as seen above in the lead image) will still include the originally proposed activations, however, some items have been refined and adjusted to allow for better use and circulation around the site. The first weekend of activation should include the beer garden, Street Soccer, food trucks, music, and more! Be sure to check back here for updates, or visit www.eastcutcrossing.com to sign up for the mailing list.
_________________________________________________________________________
UPDATE 3 – 3.30.21
After quite some time, The East Cut CBD has news to report regarding the former Temporary Transbay Terminal activation! In January the new owner of the parcel, the Office of Community Investment & Infrastructure (OCII), issued a Request for Proposals to provide a 1-2 year activation prior to the development of the Site into three blocks with affordable housing ("Block 2"), a park ("Block 3"), and a mixed-use development ("Block 4"). Block 4 is tentatively scheduled for development in Spring of 2022 and Blocks 2 & 3 in Spring of 2023. It is possible that economic or pandemic-related factors or, factors relating to the developer's financing or plans, could result in the activation being extended.
The East Cut CBD was very interested in making sure the site provided community-focused activations that would benefit all stakeholders in the neighborhood. Consequently, the CBD submitted a proposal for activation under the name "East Cut Landing Partners" (ECLP). The partnership includes The East Cut CBD, Nestory Park, Street Soccer USA, and KGK Consulting, and our proposal was initially chosen by the OCII selection panel to enter into negotiations to operate the site during the interim period, pending approval by the OCII Commission. The following activations, most provided by operating partners, have been proposed by ECLP for the site:
Food & beverage
Recreation / fitness
Outdoor cinema
Farmers market
Retail stalls
Flex space
Kids play area
Youth / community services space
Small dog run
Temporary art installations
Senior outreach
Private / seasonal events
East Cut CBD Services Team office
ECLP is currently negotiating the Permit to Enter (PTE) with OCII which will allow for the use of the site. Consideration of the PTE by the OCII Commission is tentatively scheduled for their April 20, 2021 meeting. Check back here for more updates as they are available!
_________________________________________________________________________
UPDATE 2 – 8.17.20
Voice your support for positive Temporary Transbay Terminal (TTT) site uses at the virtual TJPA Board of Directors meeting.
WHEN: Tuesday, August 18th at 9AM
WHERE: Watch live on SFGovTV: www.sfgovtv.org/tjpa. PUBLIC COMMENT CALL-IN: 1-855-282-6330 — Access Code: 126 058 4637
WHAT: Your advocacy is critical to seeing the TTT block activated with positive community uses. It will be several years before the block is fully developed, representing an opportunity to create community space, socially distanced food options, and more. Over 1,000 community members completed a survey expressing support for these types of activities.
Please contact Andrew Robinson (arobinson@theeastcut.org) if you have any questions or any technical difficulties accessing the TJPA Board meeting.
Potential Talking Points for You:
The East Cut neighborhood does not have a Safe Street closed to vehicle traffic. These streets allow physically distanced pedestrian and cyclist activity. The TTT provides the same benefit without required traffic routing and enforcement.
Development on the TTT is at minimum 1.5 years out. There is a strong need for additional outdoor space given the current COVID-19 restrictions, and this space provides a large area for multiple activities, while allowing for proper physical distancing that can be strengthened over time.
Extensive community input gathered via a recent survey demonstrated strong support for interim uses on the site. Let's put those in place as quickly as possible.
With The East Cut CBD as a programming partner, the site will be well-maintained and secure, whereas if the site goes unused, it will collect debris and weeds will grow leaving the site as a blight in the neighborhood.
Missed last week's town hall about the temp terminal? You can access the recorded event here: https://drive.google.com/file/d/1Vo2uT_fLO64x6ibWETe-oFS5oxOEtzjA/view?usp=sharing.
---
UPDATE 1 – 8.14.20
The East Cut CBD, in partnership with District 6 Supervisor Matt Haney's office, is advocating for temporary activation of the Temporary Transbay Terminal (TTT), located in the heart of The East Cut bounded by Main, Beale, Folsom, and Howard streets. Over 1,000 neighbors adjacent to the block completed our survey, demonstrating tremendous interest in transforming the now vacant lot into a community hub to support local restaurants, provide open space during COVID-19, and more.

To make this reality happen, though, your voice will need to be heard at 9:00am at the Tuesday, August 18 TJPA Board of Directors Meeting. Please call in (1-855-282-6330 — Access Code: 126 058 4637) to make public comment and request that the TJPA cancel its agreement with the City for a Safe Sleeping Site on the block and prioritize the need to community-focused interim activation.

Need inspiration? In 2018, The East Cut CBD worked with Street Plans NYC to look at programming precedents that could be implemented at the TTT. The following revisits those precedents and can help the community visualize some of the possibilities for this space. Be sure to click through all three precedents, and reach out to info@theeastcut.org with your own ideas!
East-Cut-Interim-Public-Examples