Neighborhood small businesses need your patronage now more than ever. Please take a moment to browse the list of businesses operating during the shelter-in-place order.
---
Food & Groceries
83 Proof
The 1st Street bar is closed and has launched a GoFundMe page to support employees, who right now do not have an income.
Fundraiser Link: CLICK HERE
Anchor & Hope at 83 Minna Street
New menu including items from Salt House and Town Hall!
Also available: market items and meal kits!
Order online at https://www.anchorandhopesf.com/
Andytown Coffee Roasters: 181 Fremont location is closed. However, you may use code "WFH20" for a 20% discount on all bags of coffee sold at www.andytownsf.com.
Cafe Venue at 215 Fremont Street
Call Please call (415) 357-1144 to order. Menu
Email lauren@cafevenue.com to purchase gift cards and support employees.
International Smoke at 301 Mission Street
We are currently open for take-out and delivery only, featuring many of our signature dishes, available 12pm – 8pm, seven days a week.


Orders will be available for pick-up at 252 California Street.


We look forward to sharing details about reopening for in-restaurant dining soon. Please click here to view our menus and to order!
Ittoryu Gozu at 201 Spear Street
GOZU-Chan is a relaxed outdoor experience located in the courtyard beside GOZU and is particularly focused on rare Japanese whisky, highballs, imported beer, and a menu designed to emphasize the beautiful relationship of wagyu, sea life, the bounty of California produce and binchotan charcoal.
Reserve at table at https://www.exploretock.com/gozu/
Tuesday to Saturday, 5PM to 10PM.
Philz Mobile at 425 Mission Street (1st & Minna)
Philz Coffee at 300 Folsom Street (Folsom & Beale)
Mobile orders only.
Open 7AM—2PM daily.
Prospect SF at 300 Spear Street
Prospect has closed temporarily but the team launched a fundraiser to support their 75 employees.
Fundraiser Link: CLICK HERE
Starbucks at 299 Fremont Street (Solaire)
Starbucks Reserve at 201 Mission Street
Monday to Friday, 6:30AM—4:00PM.
Mobile orders only.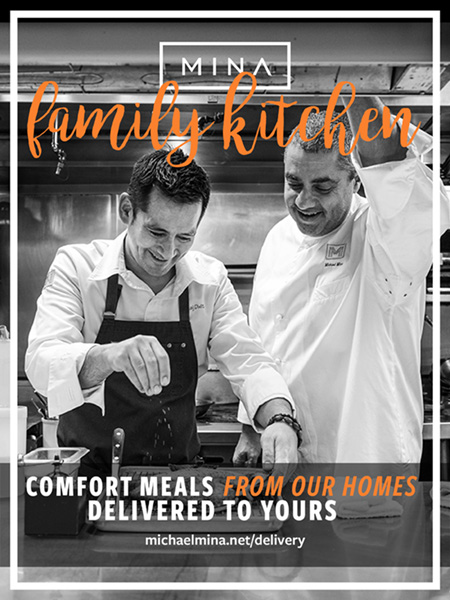 Walgreens at 456 Mission Street
Walgreens at 88 Spear Street
Open Monday—Friday, from 9AM—7PM.
Whole Cakes at 100 1st Street
Pick-up or delivery is available.
7 days a week, 8AM—6PM (9AM—2PM weekends).
Order at https://www.wholecakes.com/ or call (415) 997-8184.
Woodlands Market + Pet Shop at 203 Folsom Street
Open daily 7AM—8PM. Available on Instacart.
Special hours for seniors and people with chronic conditions:
Mondays, Wednesdays, Fridays from 7AM—8AM.
---
Fitness
---
Medical/Health Services
Circle Medical at 333 1st Street
Video-visits, in-person visits upon decision of doctor/medical provider. In network with most major insurance plans except Kaiser. A great option if someone's doctor's office is closed right now, or for anyone in need of primary care (i.e., prescriptions, labs, referrals, anxiety/stress, checkups, etc.). https://www.circlemedical.com/
---