This week, East Cut Eats is partnering with Jersey Fine Foods and Pizza located at 145 2nd St. and serving customers since 2015!

But let's take a moment to answer a burning question: How authentic is Jersey? is it the real and authentic east coast pizza you've been craving?
Read their story below and step into their world to find out. If you're not convinced just yet, order pick or delivery online, or go visit them on 2nd St. and grab a seat outside!
---
The state of New Jersey, or Jersey, is many things to a number of people. It is the Jersey Shore, the Boardwalk, saltwater taffy, ferris wheel rides; it is The Garden State; home to the Devils, the birthplace of the Industrial Revolution, and much more. But to Mitchell and Steven Rosenthal, owners of Jersey Restaurant, on Second Street in San Francisco, it is more than that. It is Ferraro's Pizza Parlor in Edison- dripping with not only great pizza, but old school family orientated hospitality. It is Chambersburg – the Italian neighborhood in Trenton, where the restaurant doors are open day and night, for anyone to stop in for a reprieve of hunger, thirst, or the rush of their day to day lives.
It is these sentiments that inspired the Rosenthal brothers to add a fourth restaurant to their SOMA empire (Jersey being the youngest, after Town Hall, Salt House, and Anchor & Hope). Can you get true East Coast pizza out here? Hell no. Is Jersey going to fill that void? Absolutely. But pizza is just a small part of the menu. Jersey combines the memories of the Rosenthals' Jersey childhood, with their travels in Italy, as well as the culinary tendencies of the West Coast – slightly Mediterranean inspired; impossibly fresh; and in an urban, yet natural environment that is cultivated through a mix of textures and colors.
Live from the Kitchen, Chef and co-owner Mitchell Rosenthal tells us how it all began! Today, in The East Cut alone, the Rosenthal brothers own and manage Salt House, Town Hall, Anchor & Hope, and Jersey. A lot to look forward to!
Fast forward to today, what's in the news for Jersey?
Well, despite the pandemic, Jersey is going strong with outdoor seating, pick-up, and deliveries every Tuesday to Saturday, from 11am to 8pm! and most importantly…

Draft Beer is back! We are excited to be tapping kegs again! With outdoor dining making a return, we are eager to share our love of local beers. We are offering pints AND pitchers of our favorite selections! Come grab a slice and a beer!
The East Cut Community Benefit District is thrilled to be delivering meals for FREE on behalf of Jersey with volunteers, tomorrow Thursday, July 23rd! If you haven't already, go order your Thursday dinner before today 8pm via our online order form!
---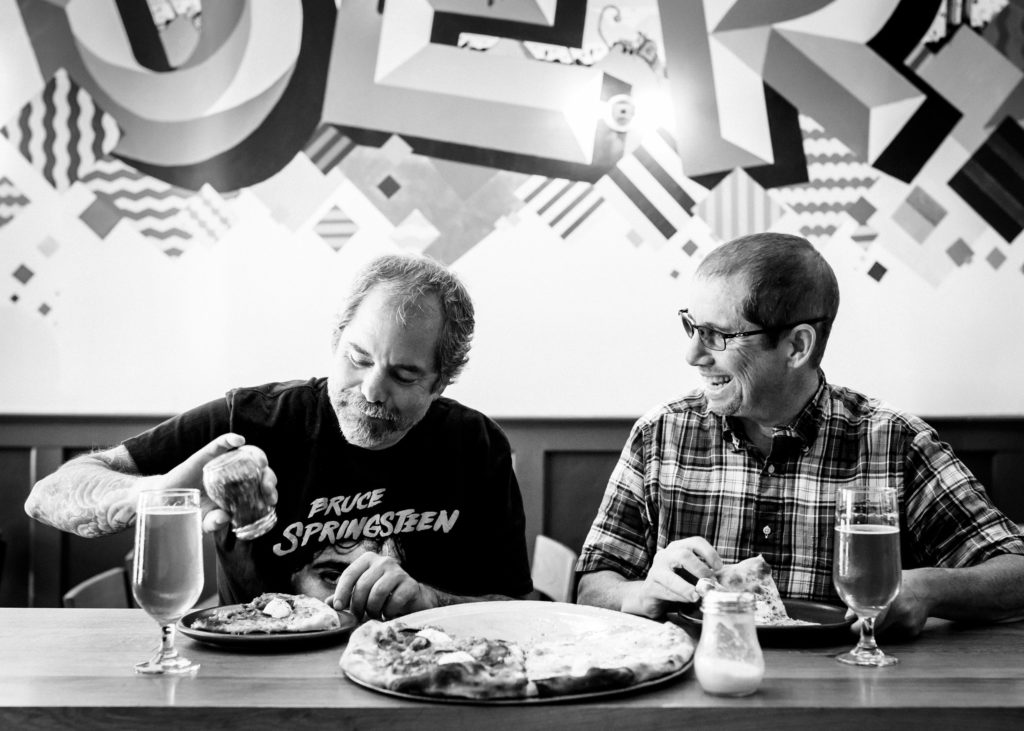 Jersey
Email: info@jerseysf.com
Phone: 415-912-1502
145 Second St., San Francisco, CA 94105