Bay Area-based artist Heather Day is known for her vibrant, abstract paintings, often highly pigmented, which radiate energy. The artist notes that her "murals, large canvases, and intimate drawings study the mechanisms of sensory perception — mining what happens when the body interprets a sound as a texture, or a scent as a color." The artist has a new work on display for the public at the side of 580 Howard Street. Commissioned by Adobe, the work joins a number of celebrated works of public art in and near The East Cut district.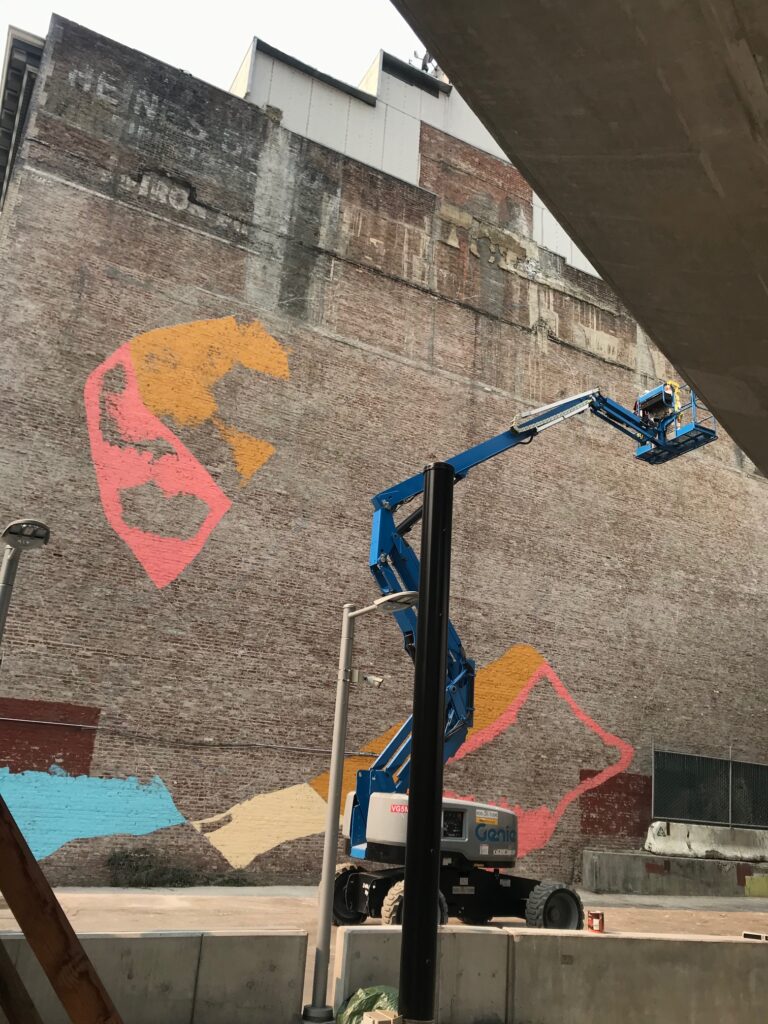 The East Cut contains a high volume of public art due to the number of commercial properties in the area that are required by the City to dedicate a small percentage of their total construction budget to art. The program, called the 1% for Art Program, has resulted in the purchase, commission, and installation  of a number of iconic pieces throughout the district, about three dozen in fact, many of which have become popular with residents and tourists alike. 
The works have grown in number to an extent that in 2017, The East Cut CBD, in partnership with local artist Jenny Sharaf, launched a public art tour and website highlighting notable works and the artists behind them. 

Several pieces of public art, among them several large sculptural heads created by Swiss-born mixed media artist, Ugo Rondinone located at 555 Mission Street, stop visitors and tourists alike and have garnered many photos over the years.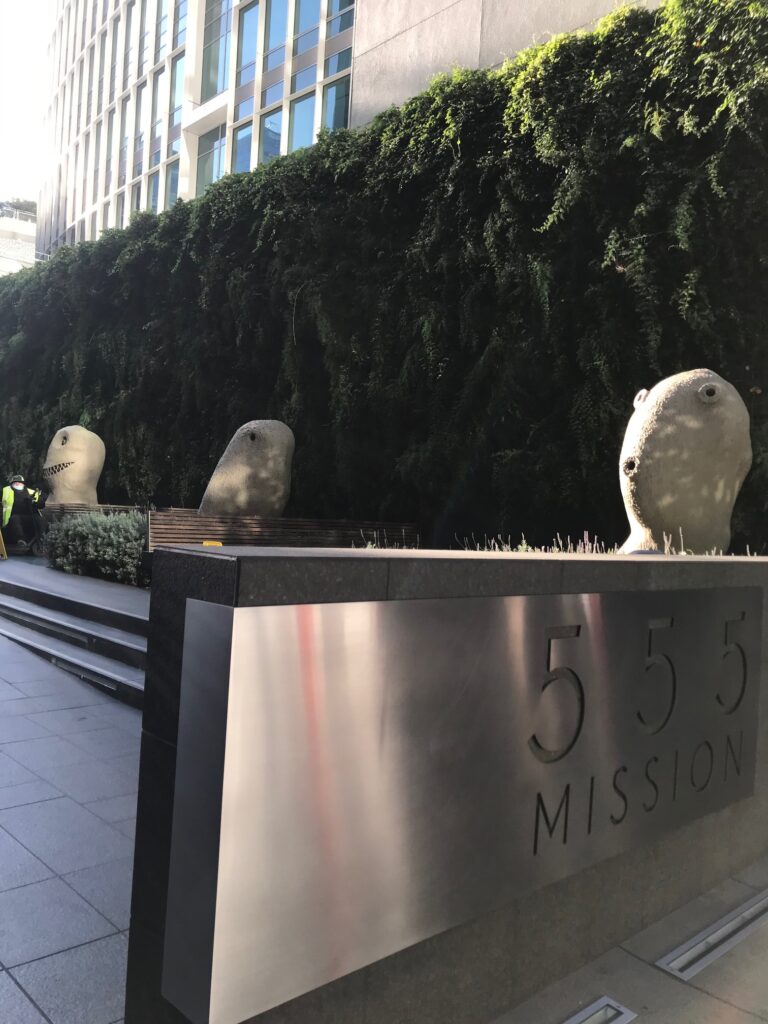 Within the district there is a fair amount of art that lies within buildings, including a Liechtenstein in the JP Morgan building lobby at 560 Mission, an Anish Kappor piece in the CBS Interactive building at 235 Second Street, and a large Richard Serra work in the atrium of the Gap INC building at 2 Folsom Street. One of the most recent large scale installations was completed for the floor of the Grand Hall of Salesforce Transit Center.
The work is a terrazzo floor installation by Julie Chang spanning nearly 20,000 square feet. According to the artist's website, the installation "invites viewers to explore the myriad of symbols and images layered within. Design elements are mined from local ecology and include California poppies, laurels and jewel-toned hummingbirds, which are highlighted by mirrored glass."
Much like the neighborhood itself, the district's public art scene is ever-evolving. Whether displayed in a building lobby, privately owned public open space (POPOS), or sitting prominently in a plaza, public art adorns nearly every street in The East Cut offering moments for conversation, reflection, and even laughter for all who live, visit, and work in our storied neighborhood.