The East Cut Community Benefit District is excited to announce EAST CUT SEATS – an East Cut neighborhood table & chairs program for local businesses! This initiative will achieve multiple goals, with the principal objective of helping neighborhood businesses participate in the new norm of outdoor dining. Moveable tables and chairs also increase neighborhood sociability and comfort, and strengthen community throughout The East Cut!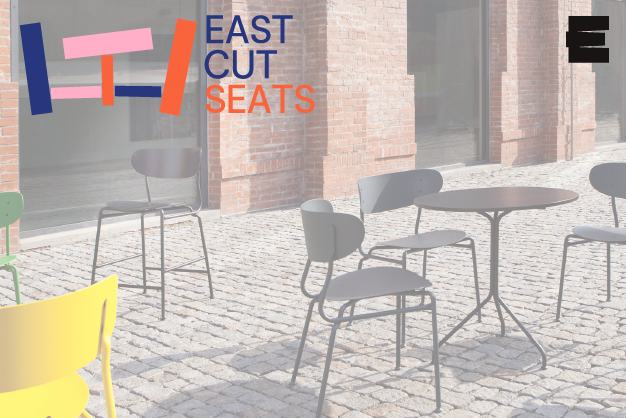 EAST CUT SEATS is simple. The East Cut CBD will subsidize the full cost mmcité Bohém cafe table & chair sets (1 table, 2 chairs) for interested businesses within The East Cut. The business would then have use of the furnishings for an agreed-upon term. The CBD will also assist in procuring the City's tables & chairs permit should the business not currently have one on file. If interested, please email pierre@theeastcut.org for more information, or take a look at our program one-sheet!
The tables and chairs utilize colors from The East Cut CBD's branding, and businesses can choose tables in blue or orange, and pair them with complementary colors for the chairs, including green, pink, orange, blue, and yellow! We are hopeful that this program will help local businesses increase usable space for their patrons and also provide a bit of fun and whimsy to the neighborhood. Look out for these new tables and chairs in the neighborhood soon!