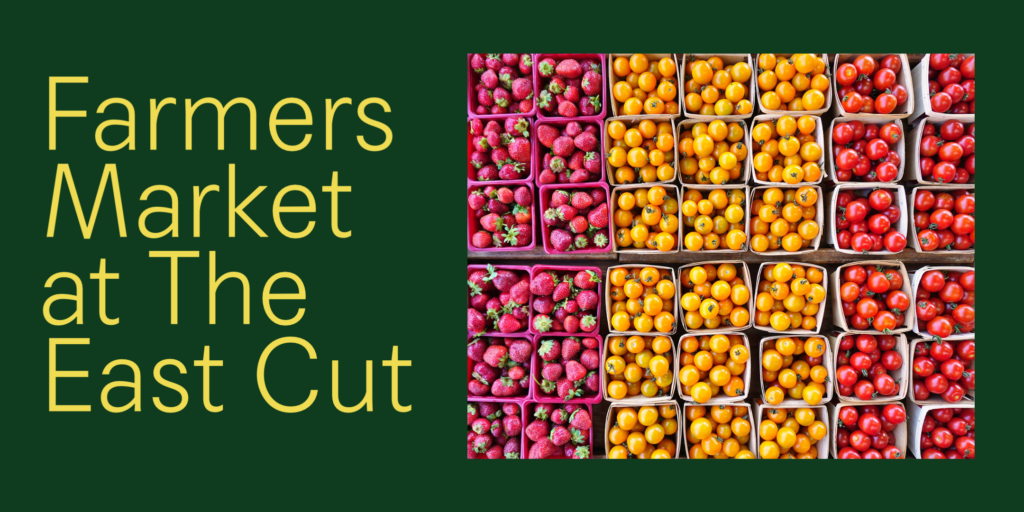 Make sure to stop by our Thursday weekly Farmers Market at The Crossing at East Cut (250 Main Street) from 3:00 to 7:00 pm! Come join the community in supporting local vendors as you make your weekly veggie pick-me-up, grab a bouquet of flowers, and sip on an ice-cold beverage from the Greyhound Bar. The market will feature a rotating list of vendors each week, featuring fresh produce, artisan foods, local goods, and live music. We hope to see you soon!
As much as possible, we want to keep the market open. This helps visitors know they can depend on the market and helps our vendors sell products. However, safety is paramount. Given this, here are some forecasted weather conditions that might warrant a cancellation:
Sustained winds > 20mph or gusts > 30mph
A level 3 storm on the ABC7 Storm Scale
.75 inches of rain during the market
If any combination of the conditions above is forecast for Sunday morning, we may cancel the market. We will be in touch by Friday at noon with any updates. If you do not hear from us by Friday at noon, you can assume no changes are in effect, and the market is on as usual.
Sandbags/Weights
Please have your tent secured at all times during inclement weather. This can be done via water weights, sandbags, or ties. All tents must be secured.

Cancellation Policy
As a reminder, please let us know as soon as possible if you cannot make it to the market. We understand emergencies happen, but in most cases, we expect to hear from you by noon on Thursday if you cannot attend the market. Please email me directly at farmersmarket@theeastcut.org with any cancellations.
---