WATCH THE PUBLIC MEETING #1 PRESENTATION HERE!
RANK YOUR TOP 3 PARK NAMES HERE!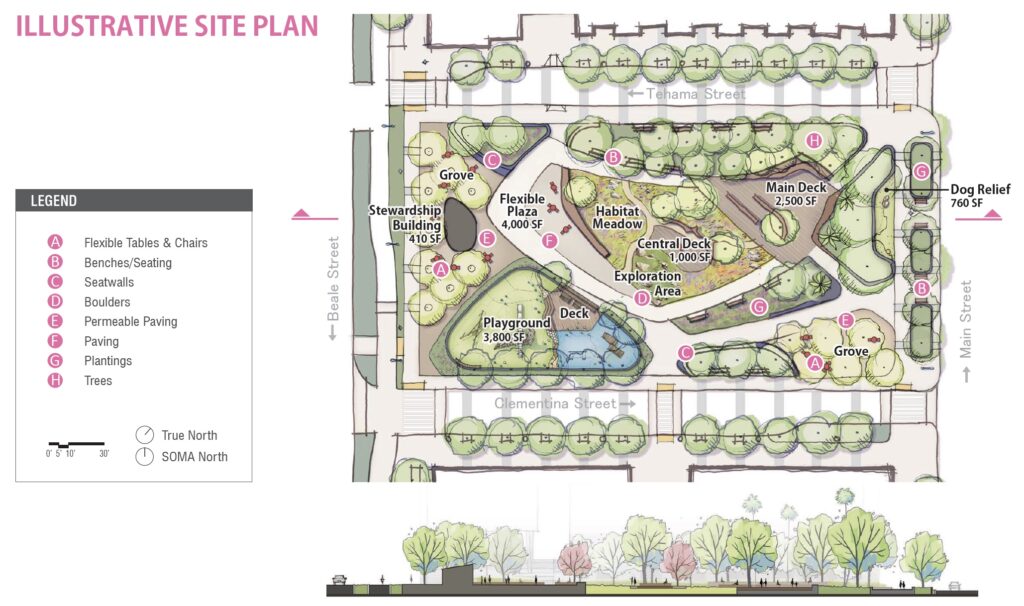 The East Cut Community Benefit District appreciates your interest in the naming process for Block 3 Park! The project, proposed for the middle third of the former Temporary Transbay Terminal at Howard and Beale streets, is sponsored by the Office of Community Investment & Infrastructure (OCII), designed by San Francisco Public Works, and will be owned and managed by the San Francisco Recreation & Parks Department once completed. The East Cut CBD is facilitating the naming process and will provide names recommended by the community to the Recreation & Parks Commission following this public process.
Naming ideas for Block 3 Park will be accepted between August 9 – 22, 2022.
In presenting and evaluating potential names for the park, The East Cut CBD recommends criteria such as:
Non-person names that are indicative of

the history of the neighborhood
the park's location
characteristics of the park's design
Person or Persons, that have not otherwise been honored in the naming of a street, public space, or building, that have

exhibited a longtime commitment of service to the Rincon Hill/Folsom/East Cut area
lived, worked, or owned a business in the Rincon Hill/Folsom/East Cut Community
made health, educational, or economic impact in the Rincon Hill/Folsom/East Cut Community
READ THE FULL PROJECT HISTORY ON SF PUBLIC WORKS WEBSITE HERE!